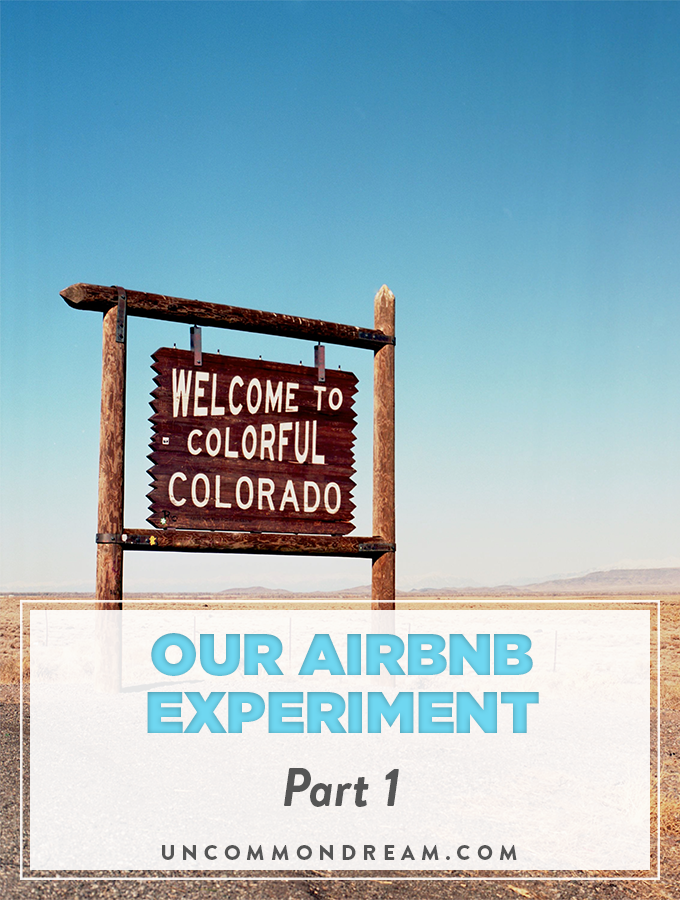 My first reaction to Michael's suggestion that we rent our home through Airbnb while our family was going to be spending 3 months in Ecuador was not a positive one. He is, however, quietly persistent, really smart, and often right (don't tell him I said that). After doing some research, he felt we were likely to at least recover our startup investment over our 3 months abroad. He also thought we might even cover the cost of our family's airfare to Ecuador. Once committed to the plan, we had approximately 1.5 months to get our home prepared to be, essentially, a hotel. These things overlapped one another, and are summarized below, but first let's share how we got ourselves organized.
It simply would not have been possible for us to get ourselves on track if we hadn't created a thorough to-do list. We've each used OmniFocus to manage our tasks since 2007. We captured every idea that passed through our minds in Michael's OmniFocus database so we didn't forget anything we needed to do. This was probably the biggest personal project we've managed together since our wedding. Writing down all of the details that go into a project like this is essential.
The Post
If you've ever stayed in an Airbnb rental (or been an Airbnb host yourself), then you know that good pictures and descriptions are key to frequent bookings. We needed to get our house posted as soon as possible so people would start seeing and booking our home for the months we would be gone (February – mid May). We needed pictures of each room looking clean and pristine, set up exactly as it would be when guests arrived. This was no easy task while we were still living in our home—with two young, messy kids, no less! Fortunately, our home was already fairly free of knickknacks. We had lived there for less than a year and had never put out breakable items because of the kiddos. I prioritized purchasing the linens that would be needed for the guests so that they could be in the photos. Once we had those things, we worked on staging separate rooms, usually when kids were napping. We aimed for sunny days that featured how light and bright our home really is. Creating the post itself was a bit time-consuming, but the Airbnb interface is user-friendly and the bottleneck was more our perfectionism than anything else. We looked at other booking descriptions for inspiration and took turns writing up our home's summary and description until we had something that made us both satisfied. Once posted, we had our first booking within a week.
The Purge
Michael and I have always loved a good purge of our belongings. Yet, somehow, we still feel like there's always too much stuff. We cull our possessions regularly, especially before and after a move, and we've moved 6 times in our 13 years together. But none of our purges compared to preparing our home to be an Airbnb rental. It really helped us make tough decisions about things that had been lingering as unnecessary possessions for years. We started with toys. While the kids were sleeping (which makes this seem somewhat sinister) we pulled out absolutely every toy they had and sorted them into 3 piles—keep, store and discard. This resulted in a toy chest in the living room that could easily be closed and a bin in the garage for each kid so we could rotate toys in for variety. Everything else was taken to a consignment shop for a little cash and otherwise donated. In the future, I hope to try making more money on kids' toys by experimenting with one of the large consignment events like "Just Between Friends" which comes to our area periodically. After sorting through toys (any parent knows that these can be the biggest source of clutter in a house with kids), we went room by room through our house, marking them off of our OmniFocus list as we completed them. This took weeks as we slowly took on one small piece of the house at a time. Doing it this way, though, made it so manageable. Living room desk? Check. Hall closet? Check. Kitchen junk drawer? Check. (That one was particularly satisfying). In general, our technique was:
Take everything out of drawers, off shelves, etc.
Touch each item
Decide whether to keep or discard it (for us, this meant making several trips to donate things at our local thrift store)
Although this has always been my preferred strategy for cleaning out a space, I recently listened to Marie Kondo's The Life-Changing Magic of Tidying Up on Audible and was inspired to really be mindful about removing every item from a space so that everything can be seen and reviewed. There's much more to her book than just that, and it is definitely worth a read. Let's just say, our Vitamix sparked joy and the panini grill did not. A clean, clutter-free home is so important for a successful Airbnb listing. Michael and I were quite unhappy with the Airbnb apartment we had booked for our 3 month stay in Cuenca, Ecuador. The furniture was uncomfortable, two windows were broken, and the bathroom smelled strongly of sewage. Although they had cleaned it before we arrived, it still felt filthy because the house was so cluttered. It was filled with the family's old books, photos, and many knickknacks that were dirty and dusty. We canceled the reservation and found another apartment within a couple days. In the case of our Colorado home, we simply put away any personal photos and sentimental decorations. That works fine for us, but for anyone missing the personal touch when they are at home, it's certainly easy enough to switch out a frame or two between bookings.
The Purchases
When Michael suggested we rent our home on Airbnb, I'm pretty sure I raised an eyebrow and asked him if he had any idea how much it would cost. My first estimate was $1500 to purchase linens and consumables, but after I started to list out all we would need, my estimate creeped closer to $2000, until by the end I was pretty sure we had spent at least $3000. It turns out the grand total of our up-front investment was $3,126.08. Here's a summary of some of the main things we needed to purchase for our 4 bedroom, 4 bathroom home capable of sleeping up to 12 people:
Sheets – 2 sets for each sleeping space, which in addition to beds, includes an air mattress, futon, and two couches
Towels – we bought 12 large towels and 8 each of hand towels and wash cloths… we got a great deal buying some nice cream colored ones through Costco.com
Blankets – one cotton blanket for each sleeping space
Master Bed duvet covers – the one we were using was in bad shape, so we needed two new ones for changing out between guests
Bathroom items – just simple things like soap dispensers and tissue box covers… we didn't have those things already
Coffee Maker – we also left guests our french press but needed one with more capacity
Pillows – another good deal at Costco
Pillow protectors – we used pillows we already had plus the extras I bought at Costco. Pillow protectors are pretty key, in my opinion, to preventing pillows from becoming disgusting
Kitchen towels – the ones we had were old and dingy
Consumables – sponges, paper towels, liquid soap, laundry detergent, toilet paper, shampoo & conditioner, dishwasher detergent, tissues, garbage bags, coffee, tea, etc.
Interior locks – we added keyed locks to our office and two closets in our finished basement that weren't available to guests.
In addition to the above items, there were dozens of little things that came up as we went through the process of preparing the house. Things like lightbulbs, aerators for the faucets, supplies for the fireplace. Ugh. The list was long. A note on purchasing all of these things: I started off buying items online to keep costs down but it was frustrating when anything needed to be returned. As I mentioned, I love the towels we got through Costco.com, but we also had a lot of luck finding things at discount stores like HomeGoods and Tuesday Morning.
The Packing
After we had completely purged our house of superfluous items, we purchased large plastic bins from Home Depot to store items that were not to be left out for Airbnb guests. Although clear bins might have been nicer, we were discouraged by their price and ended up with some fairly affordable, sturdy black ones from Home Depot. We stored these personal items in our locked office. Bin categories included:
Kitchen – we needed two bins for nonperishable pantry items like dried beans, rice, pasta, and jarred sauces, and two bins for excess kitchen items like the food processor, unnecessary utensils, and extra cups
Bathrooms – we only needed one bin for our four bathrooms, most of which came from the master bath
Kids' Rooms – one bin for each child's extra clothes, toys, random bedroom items, etc.
Heirlooms – we have some of my grandmother's old Willow Ware china and other cherished antiques that I packed away
Linens – this was the biggest bin and contained all of our bedding and towels that we were not leaving out for guests
Master Bedroom – this was another large bin where we put the items from our drawers. The clothing in our closet was simply bagged while still on the hangers and carried down to the basement
Books – we left most of our books on the shelves, but pulled off things that were sentimental or easily damaged
Miscellaneous – this bin got some of the random things that needed somewhere to go in the last couple days before we left
Each bin was labeled with a label maker and could easily be identified for quick access. As I write this, we're still in Ecuador and will be headed home in a few weeks. Michael and I are both looking forward to walking into a home that is completely clean and clutter-free. As we pull out the bins from the basement, we intend to think though each item yet another time before deciding whether or not to keep it or give it away. After all, we've lived the past three months just fine with what we were able to fit into three suitcases and two backpacks.
So, how is it looking so far?
At this point, I'd say the Airbnb experiment has been more successful than we had anticipated. Michael will go over the numbers in part 2, but through the end of March, we'd nearly recovered our up front investment with another month and half of bookings to look forward to before we return home. Do you have experience renting your home on Airbnb? We'd love to hear your insights in the comments below. So how did it go? Find out in Our Airbnb Experiment: Part 2. SaveSave