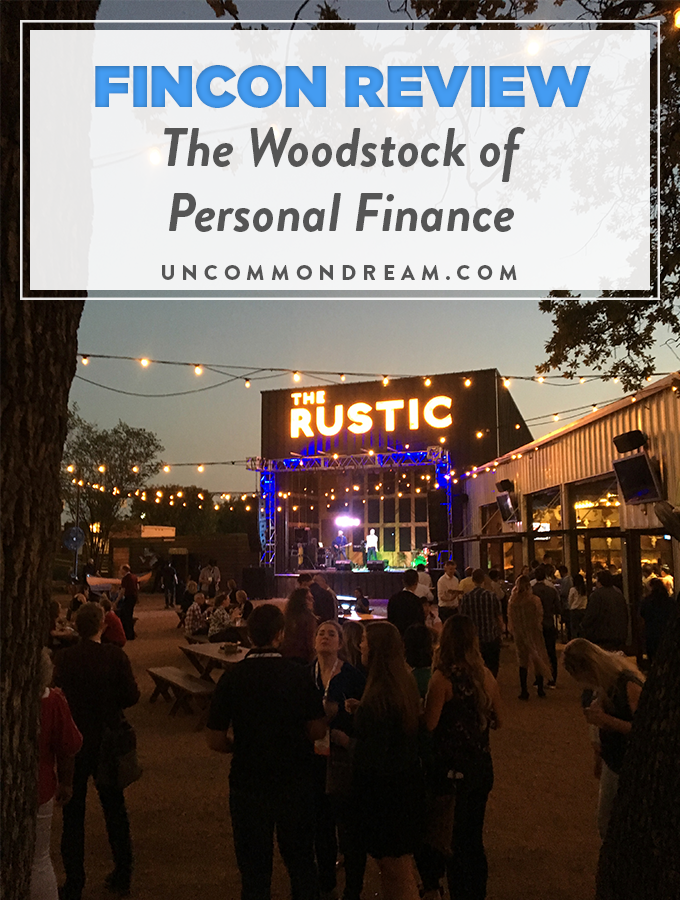 At around the time we started our blog this spring, Ellen and I ran into an article about FinCon, a 4 day personal finance conference. When we saw that FinCon17 was going to be in Dallas in October, it seemed like a good year to check it out. We likely would have been in Dallas at around that time anyways to visit my parents so we decided I would attend while Ellen and the kids visited with the grandparents.
The event's slogan is apt: "helping thousands help millions." There were nearly 1,800 registered attendees, among them many of the leading writers, podcasters, and video producers working to promote a positive money message. There were also nearly a hundred exhibitors representing companies serving the personal finance industry in one way or another.
Here's a quick rundown of my week.
Volunteering
If you ever decide to attend FinCon, I highly recommend signing up for some volunteer shifts.
Volunteering was a great low-key way to meet the staff responsible for producing the event as well as a manageable number of other attendees.
My first couple of volunteer shifts were spent stuffing swag bags the evening before the event opened. I had a good time working alongside Amy from Life Zemplified, James from Penny Wise Dollar Wiser, Greg from CashChatSnap, Nick True from Mapped Out Money, Crystal from Budgetinginthefunstuff.com, and many other fun people. Crystal, one of only about 30 people who have managed to attend every FinCon, even later dubbed me her favorite FinCon newbie. 🙂
During the two hour gap between my volunteering shifts, a larger group of us walked to the Deep Ellum area for pizza where we met up with ESI from ESIMoney.com and Pete McPherson from DoYouEvenBlog.com.
The morning the conference began, I volunteered as a greeter and was tasked with directing attendees to registration where they would collect their badges. As such, my smiling face was one of the first ones people saw upon arriving to FinCon.
The laughable consequence was that many seemed to see me as a resident expert on all things FinCon for the rest of the conference. Despite it being my first year to attend, so many people approached me throughout the week to ask me questions about the event, presumably thinking I was FinCon staff.
Volunteering Pro tip #1: Check the schedule of conference sessions and avoid signing up for volunteer shifts that conflict with any breakout sessions you really want to attend.
Volunteering Pro tip #2: Note the conference schedule conflicts and sign up for those volunteer shifts anyways. Those roles need to be filled and I'm sure it's even more appreciated if you sign up for the harder to fill shifts. Get a virtual pass to later watch the sessions you want to see but inevitably miss.
Since this was my first FinCon, I went the Pro tip #1 route, but next year I intend to give Pro tip #2 a try.
The Keynote Speakers
My hat goes off to PT and the entire FinCon team for pulling this conference together and attracting such an impressive lineup of keynote speakers.
Anyone with even a passing interest in blogging will likely be aware of Darren Rowse's work at ProBlogger.com.
David Bach is the best-selling author of 9 consecutive New York Times bestsellers.
I was particularly inspired and entertained by Nicole Walters' closing keynote.
The Breakout Sessions
Over the course of the 4 day conference, there were 85 breakout sessions to attend. The Breakout Sessions were helpfully organized into tracks so, for example, someone considering starting a podcast could simply attend the suggested sessions on the podcasting track.
I took a less pragmatic approach and just jumped into sessions that looked interesting to me or that were being put on by inspiring people. Nathan Barry's talk fell into the latter category, for example.
The Virtual Pass
The expression 'like drinking water from a firehose' aptly summarizes my FinCon experience. There are events scheduled most days from the early a.m. into the midnight hours. At any given time, multiple breakout sessions are running concurrently in a number of different conference rooms.
As such, it's obviously impossible to attend all 85 breakout sessions, nor could I absorb that much information in 4 days if I tried. I attended perhaps 6 sessions and still came away from the event with more than enough notes to keep me busy for awhile.
Thankfully, each session had a dedicated film crew. As I write this, the recorded sessions are now available to all FinCon attendees. I've been impressed by the quality of the few recordings I've watched so far.
They helpfully synced the recording of the presenter with their accompanying slides and both are in view throughout the presentation. The result is an experience that nearly matches the experience of being in the sessions themselves.
The People
FinCon's biggest appeal for me was always the people in attendance. For starters, it was a great excuse to get together with a number of friends who would also be attending. It was also pretty surreal to serendipitously bump into dozens of other people whose work I admire. Nick True's excellent presentation for FinCon newbies emphasized not making it weird should you meet one or more of your heroes at the event.
Go On, Meet Your Heroes
I'd say I faired pretty well, unless you count the first time I interacted with David Cain from Raptitude.com (Exhibit C).
Exhibit A:
Day 1 Volunteer Michael: Hey! You're Brandon, right!? Welcome to FinCon! You can collect your badge right down that hall! Have a great FinCon!
Brandon: Thanks.
My inside voice: That was THE Mad Fientist! Yes, I addressed him by his first name before we had met and before he had his badge. I don't think I made it too weird though, did I? Did I? Well, he probably did notice I was getting a little carried away with the exclamation marks.
Exhibit B:
Me: So YOU'RE the infamous PoF with the sweet home-brew setup!
PoF: (Something friendly as I recall.)
Exhibit C:
Me: Aren't you David Cain? I've been reading your blog for years! It's awesome to meet you. I feel like such a fanboy right now.
My inside voice again: Things were going so well until you said that fanboy thing. Well, and that bit about reading his blog for years…
My Popup Business School People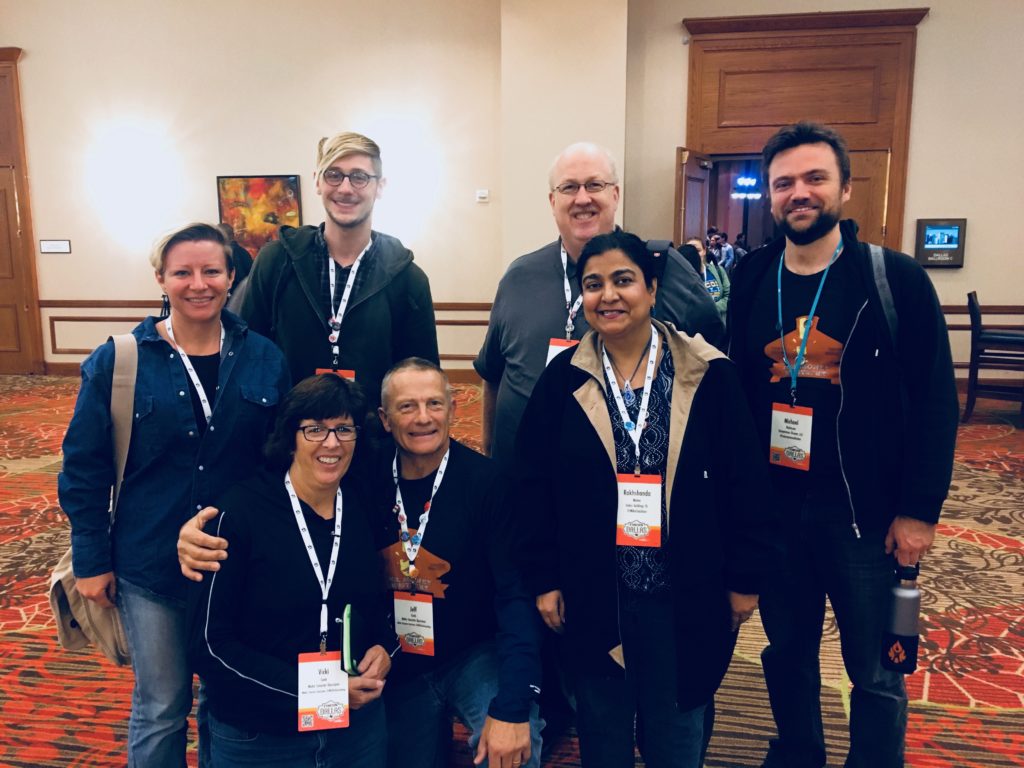 It was great to see all of my Popup Business School people again. There were a ton of us at FinCon. Seeing familiar faces everywhere I went definitely made the event a lot more comfortable. If you haven't heard of it before, my friend Carl wrote a great summary of the Popup Business School event that we attended this summer at the new MMM HQ in Longmont.
Entertainment
FinCon is the only conference I've ever attended that never seems to stop. It's a solid 4 days of around-the-clock activity. FinCon people are hard core and know how to have a good time.
There were running and yoga groups to join at around 5:00 a.m. (Or so I heard. I had zero first-hand experience with anything resembling 5 a.m. during FinCon). There were also people mingling in the hotel bar into the wee hours of the morning. (Yes, I got plenty of first-hand experience with this group.)
Wednesday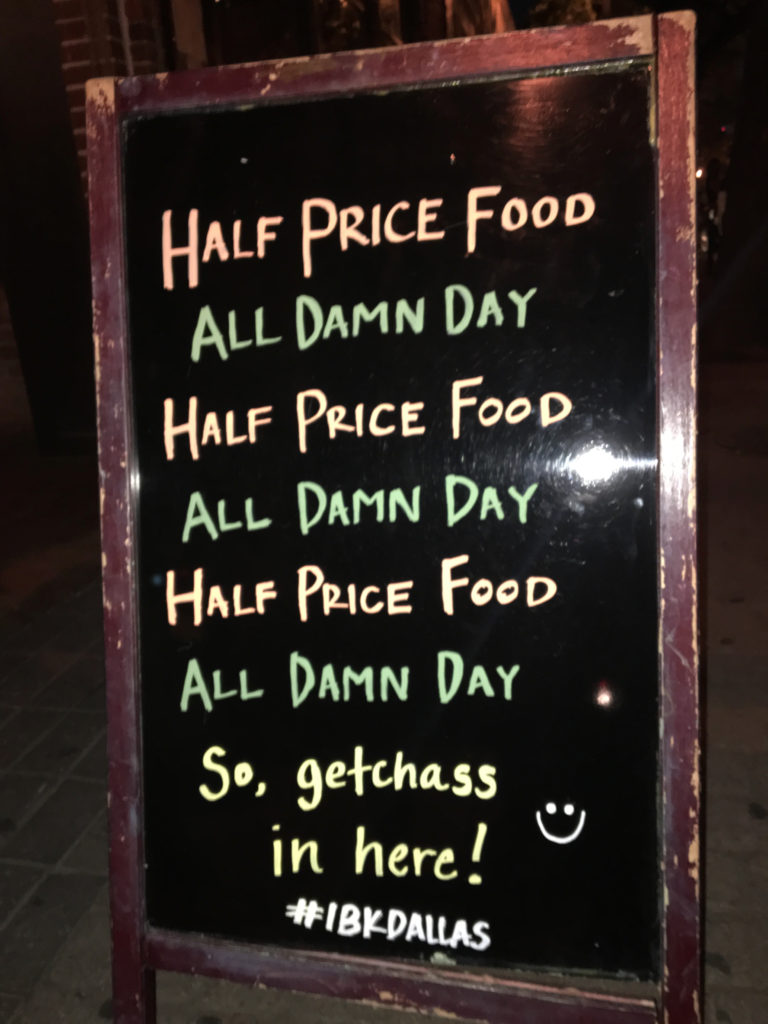 Wednesday night I had dinner with a fun group of folks including Mrs. Bita of Biyalis is the Answer fame, Mr. and Mrs. WoW from Waffles on Wednesday, Kevin from Financial Panther, and Miss Mazuma.
After dinner, I was invited to join a pub crawl organized by Media Vine where they treated us all like VIPs for the evening. While I don't foresee us running display ads on our site for aesthetic reasons, if we ever were to do so I'd take a close look at Media Vine. Everyone from their team was incredibly nice and they seemed like a fun company to work with.
Besides the beer of course, some highlights of the pub crawl were my conversations with Keith aka The Wealthy Accountant, Steve and Annette Economides from Money Smart Family, Doug Nordman from The Military Guide, and my pals Mr. and Mrs. WoW.
Thursday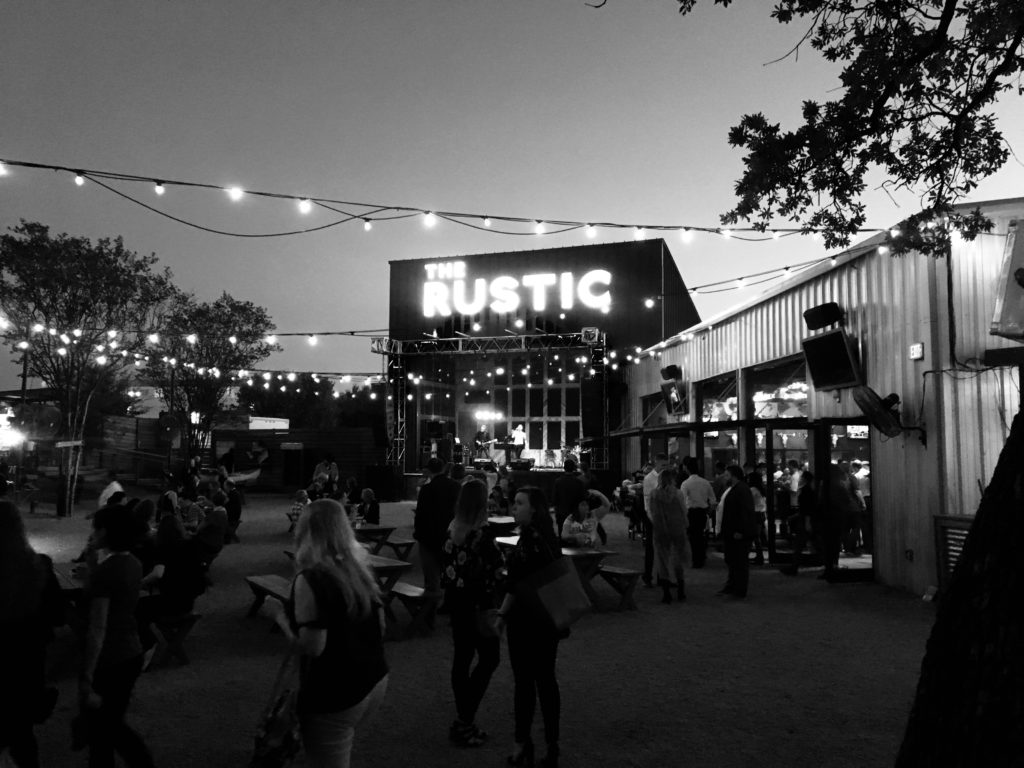 Thursday, FinCon reserved the entire Rustic restaurant for the night and shuttled everyone there in a series of classy buses. Between the indoor bar area and the large outdoor patio area, the Rustic was just big enough to accommodate us.
Mr. and Mrs. WoW were kind enough to share some of their blanket with Liz Eischen from Kitchen Table Finances and me. We all lounged around on a grassy hill enjoying the live music, food, and conversation.
As we were preparing to leave the Rustic, I spotted Sean Merron, the co-host of the 2 Frugal Dudes podcast. Although we hadn't met yet in person, I recognized him as a pretty active member of our MMM HQ Slack group so I introduced myself. We got along great and his enthusiasm is contagious!
Later that evening, Ellen and I were invited to a fun party hosted by Carl from 1500 Days and Gwen from Fiery Millennials. We all had plenty of notice that we should bring along some of our favorite beers from our part of the world. Since we live in northern Colorado, home to an absurd number of amazing craft breweries, this was no small task! After much deliberation, I settled on bringing some tasty beer that would be difficult to find outside of our home town.
Besides sampling quite a few delicious beers, highlights of the party included our attempted video interview with Ms. Montana and our conversations with Chris from Apathy Ends and Chad Carson from CoachCarson.com.
I don't know what Chad said, but Ellen later told me her conversation with him was just what she needed to be 100% on board with returning to Cuenca in January (the city in Ecuador where we originally met Chad and his family earlier this year).
Chad, if you're reading this, please feel free to teach me some jedi mind tricks the next time we're together.
Friday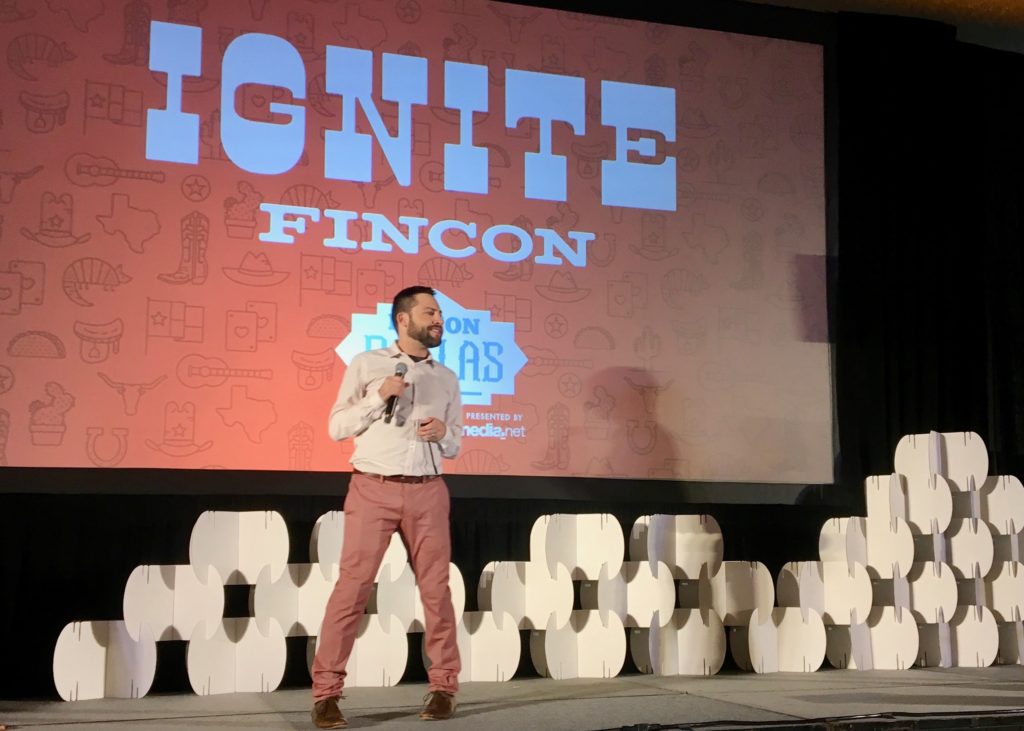 The highlight of my Friday evening was Ignite Fincon hosted by Eric Rosenberg from Personal Profitability. At Ignite events, each presenter gets exactly 5 minutes to present 20 slides that auto-advance every 15 seconds.
After several consecutive conference days, I considered skipping it. However, I noticed I had been paired with Eric Rosenberg for my one-on-one mentoring session on Saturday (another pretty amazing perk of FinCon). So I thought it'd be good to check out his event and introduce myself before our one-on-one.
I'm glad I did. These were not your run-of-the-mill presentations. While there was some variety of tone, most of the presentations were essentially standup comedy skits set to slides. Having a new presenter every 5 minutes also helped keep it interesting.
Saturday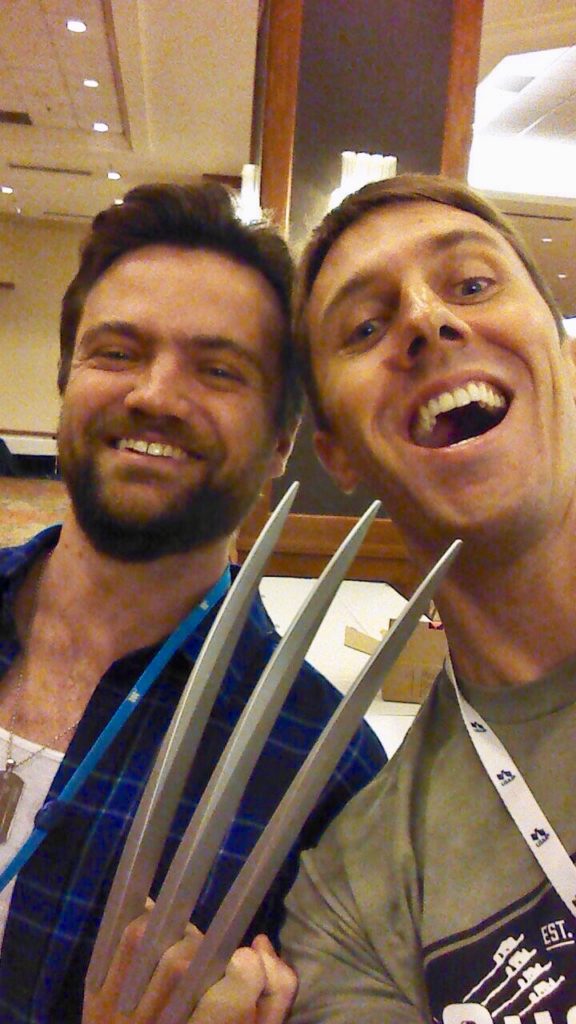 FinCon ended with a costume party that did not disappoint. There were tons of impressive costumes, but my personal favorite was Jim's from Route to Retire.
Every time the costume party came up, I suggested that people should shave their head into a mohawk and go as J. Money. However, I didn't think 1700+ people was a large enough sample size to find anyone with the requisite cojones to actually do it.
Jim proved me wrong and instantly became a legend in my mind. I have no idea if my many suggestions indirectly influenced Jim's costume or if we're just two minds that think alike. What I do know is he looked tough as hell with the J. Money mohawk. Legend!
Hélène from Free to Pursue and her conference companion put in a similar amount of work with their magnificent full body leopard costumes. Respect!
Felicity from Fetching Financial Freedom also deserves some costume recognition for her Living Statue costume. Her full body metallic paint—clothes and all—demonstrated some impressive dedication. Bravo!
Life 6 Weeks After FinCon
The best part about writing a FinCon summary 6 weeks after the event is getting to include some preliminary and quite unexpected benefits that have resulted from attending my first FinCon.
Da Best Mastermind Group
A week or so after returning home from FinCon, Sean Merron reached out to ask if I'd be interested in joining a Mastermind group he was assembling. Not just any mastermind—Da Best one.
We meet for an hour every other Friday to discuss what everyone's working on and to help one another through our challenges.
Our current members:
Little Old Me
Alex and Cassie from TheThriftyCouple.com
Jillian from MontanaMoneyAdventures.com
Kristen from TheFrugalGirl.com
Mr. and Mrs. 1500 from 1500Days.com
Travis from StudentLoanPlanner.com
Steve from ThinkSaveRetire.com
To say that I'm honored to be contributing to this Mastermind group is a pretty big understatement. It's definitely encouraging me to step up my game around here. I also don't think it would have happened had I not attended FinCon.
The Top Secret Project (Shhh…)
It's early days, but Sean and I are cooking up something together in our free time that I think could be really great. I can't say much about it now because of the first couple rules of our thing, but I'm pretty jazzed about it.
Overall Impression of my First FinCon
I signed up for FinCon without many expectations. I was looking forward to meeting some interesting people and perhaps learning a thing or two about blogging. My expectations were exceeded and I'm counting down the months until I can attend FinCon18 in Orlando.
SaveSave
SaveSave
SaveSave
SaveSave
SaveSave
SaveSave
SaveSave
SaveSave
SaveSave
SaveSave