I loved my job. I really did. But I'm so glad I quit.
There are several reasons I decided to do so. The biggest and most compelling reason was because we were moving to Colorado and having a second child. If those two factors had not been a piece of the larger puzzle, I'm pretty sure I would still be there.
If I hadn't left (if we still lived in Texas and still had only one child), it would be costing us approximately $15,000 a year or $1,250 a month for me to keep working. I figure it'd be almost double that if we had two children in daycare.
At the time I left, I was grossing $4,000 a month for 32/hrs a week. I went from 40 hours a week down to 32 after I had my son and wanted more flexibility to spend time with him. (As a side note, that set up was great in theory. The reality, however, was that I was always trying to squeeze in work when I was home with him and pretty much always stressed).
Like many people living in the Dallas/Fort Worth Metroplex, I had a long commute to my job. I drove approximately 45 miles each direction. With tolls! It typically took me about an hour… sometimes much more, depending on traffic. Ugh, I know.
For the first 5 years of my time at the nonprofit that I totally loved I never minded the commute. I was working for REAL School Gardens, an organization that partners with low-income elementary schools to design and install outdoor classrooms. Once the outdoor classroom is in place, the REAL School Gardens staff trains the school's teachers to utilize the outdoor space as a way to better engage students in learning the standards they are expected to know.
I thought of my daily 2 hours in the car as an opportunity to just chill and think. I'd silently cringe a bit every time I passed under another toll gate, but just figured it was part of the job. When we purchased our home in the suburbs, we chose a house about a 10 minute walk from Michael's office. At the time, we didn't know where I would work, and I almost didn't apply for the position with REAL School Gardens because of the distance. I have no regrets that I did.
I knew that my choice to work for RSG was an expensive one. Over the 7 years of my employment there, I opted not to crunch the numbers. I really didn't want to know. When we had our son, Leo, and I continued to work, it became even more expensive as we had to pay for childcare.
We have been keeping up with a Mint budget for 10 years. It's not like we didn't know how much we were spending. We just never put it all together into one neat and tidy picture. Until I sat down to write this.
HOW MUCH IT COST ME TO HAVE A JOB
Before digging into these numbers, it's worth mentioning that the below costs also include driving we did outside of my work commute. It's just not possible to separate the two.
Gas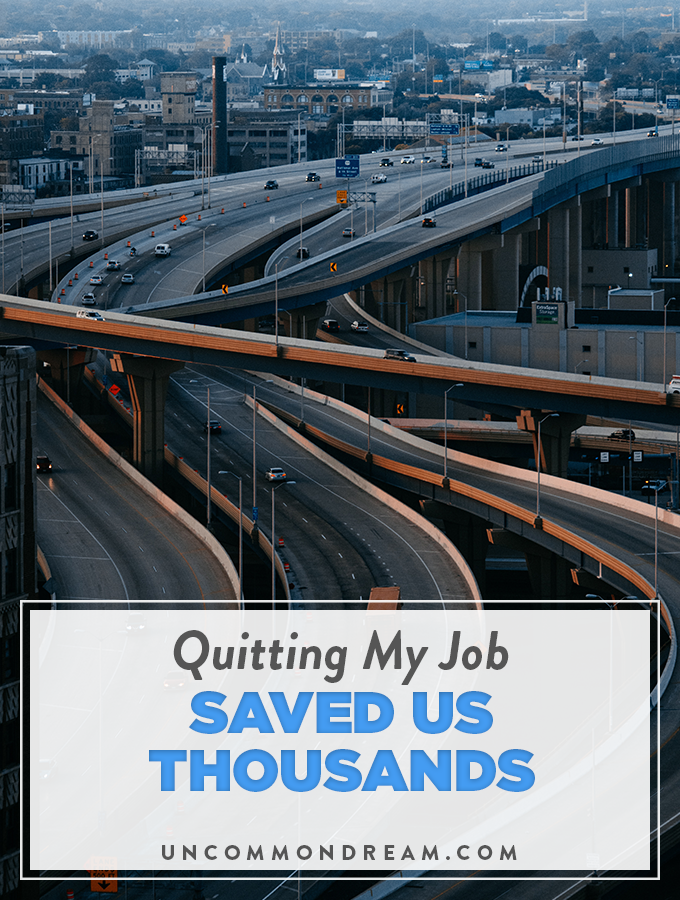 When I first started working for REAL School Gardens, I had more than just a 90 mile round-trip commute to my office. Two to three times a week I would drive to an elementary school to conduct a training. Sometimes those schools were closer to my house than my office. Sometimes they were further.
I felt the organization's travel reimbursement policy was fair. They paid for mileage at the federal rate for anything above an employee's commute to the office. Fair, but it also meant that my mileage reimbursement checks were MUCH smaller than they would have been if we actually lived in the same city where I worked.
Here's a selection of some road trip-free months to show how much we spent on gas over the years. (I was a bit horrified digging through our Mint transactions to find this):
January 2010: $251.92
September 2010: $245.68
May 2011: $249.48
April 2012: $287.47
August 2013: $236.99
March 2014: $259.41
This is all in our '98 Saturn SL that averaged about 35 – 40 mpg. It typically cost me about $33 to fill up every 4-5 days.
January 2015: $89.83
May 2015: $104.70
After I had Leo in the summer of 2014, I typically went to the office only 3 days a week and otherwise worked from home. We also bought our Prius right before he was born, although its 42mpg wasn't a gigantic improvement from the Saturn.
April 2016: $29.01
July 2016: $32.02
September 2017: $62.21
We moved to Colorado in March of 2016. I was no longer working and our car use is now just for getting around town.
To summarize, when working full time, we averaged $255 a month on gas. After going down to 32 hours a week and trying to be in the office only 3 times a week, we averaged $97 a month. Now, with no job and no commute, we typically spend closer to $40 a month. That still seems too high – time to bike more!
Tolls
One of the worst parts of living in the Dallas/Fort Worth Metroplex (besides the traffic) was the ubiquity of toll roads. My commute to the office and many of the schools I visited would have been much longer if I had been able to avoid them. If I had skipped the tolls, my drive to and from the office would have been at least 30 minutes longer.
Our toll tag would get charged in $40 increments, and we were typically hit twice a month. That put us at an average of $80 a month for tolls. Yikes!!
Now, in Colorado, the only toll we occasionally get hit with is on our way to the airport. If we're running late, the toll road shaves about 20 minutes off the drive. Otherwise, we usually opt for the less direct but otherwise toll-free route.
Childcare
When Leo was first born, it was important to us that he spend at least his first year being cared for in our home. Michael usually walked home for lunch to see him, and I liked the consistency of him being at home regardless of whether he was with me or a childcare provider.
So, we hired a nanny. We paid her $11/hour and she was with him 3 – 4 days a week (my 3 days a week in the office often looked more like 4). It cost us about $1,260 a month to pay her.
When Leo turned 1, we decided to put him into a local Montessori daycare. Our most compelling reason was an issue we had with the nanny, but the savings were also pretty significant. For full time care (although I still kept him home at least one day a week, we had to pay for a full week), the daycare cost us $953 a month.
We had the nanny for 10 months. Leo was then in the daycare for 7 months before we moved to Colorado and I was home full time.
So, we spent about $12,600 for the nanny and $6,671 for the daycare. Although I still loved my job, the addition of motherhood to the mix made for the most arduous period of my life. We were sure spending a lot of money so I could be tired, overwhelmed, and stressed all the time!
As part of this, I think it's worth mentioning that I know the decision to leave employment and stay home with children is incredibly profound and personal. We can't all afford to stay home. We don't all want to stay home. I am so grateful to have had the choice.
Before becoming a stay-at-home mom, I never thought I'd want to be a stay-at-home mom. I was terrified I would feel bored and isolated. I had visions of pushing a shopping cart around Target with a baby in the basket and craving adult interaction.
Instead, however, it has been such a gift. Our home in Colorado has more kid-friendly activities than I could possibly keep up with. We've made friends with other parents, and I feel like a member of the community.
Of course, it's still really hard. There are many days I'd take an hour long commute in traffic over 10 minutes of a toddler's earth-shattering screaming. Michael and I have made a conscious effort to build some "me time" into our routine in an effort to provide some much needed balance.
So How Much Was It?
When I was working full time and driving all over the Metroplex to schools and my office 5 days a week, I was spending about $355 a month on gas and tolls. That's $4,260 a year.
When I had Leo and went down to 32 hours a week and was typically driving in to the office only 3-4 days week, gas and tolls cost us about $157 a month or $1,884 a year. Cutting back on driving made a big difference, but…
We had a kid who had to be taken care of while we were at work. Combining the two forms of childcare, we were averaging about $13,278 a year.
In my final months of employment, we were spending an average of $15,162 a year for me to work.
So What?
Well, I was able to quit my job and stay home with our kids. Not everyone has the freedom to do that if they choose. That, right there, is precisely the beauty of obtaining a level of financial freedom that provides you with more choices. It's why so many people are working towards the goal and why so many people share ideas, stories, and resources on how to do so.
There are a bunch of lifestyle decisions that helped get us to a point where we could decide with very little hesitation that I would leave my job. Although Michael always walked or biked to work throughout his career, Living close to my work obviously was not one of them!!
Eventually, the financial freedom empowered us to feel comfortable when Michael also exited the world of full-time employment. It is a goal that is so worth the time, decisions, and effort. Otherwise, we'd likely still be living somewhere we didn't love, I'd probably still be driving 2 hours a day, and we'd be missing out on huge swaths of time with our precious wee ones.
I hope to go back to teaching or even the nonprofit world one of these days. Until then, I'll stick with my full time mama job. It's super hard. So exhausting. And so very worth it.
Have you ever taken the time to calculate how much it costs you to work? Admittedly, I never really did (I was afraid to find out!). Maybe it's not time to quit, but perhaps it's time to get a car with better mileage or downsize to that fixer-upper 5 minutes from your office?