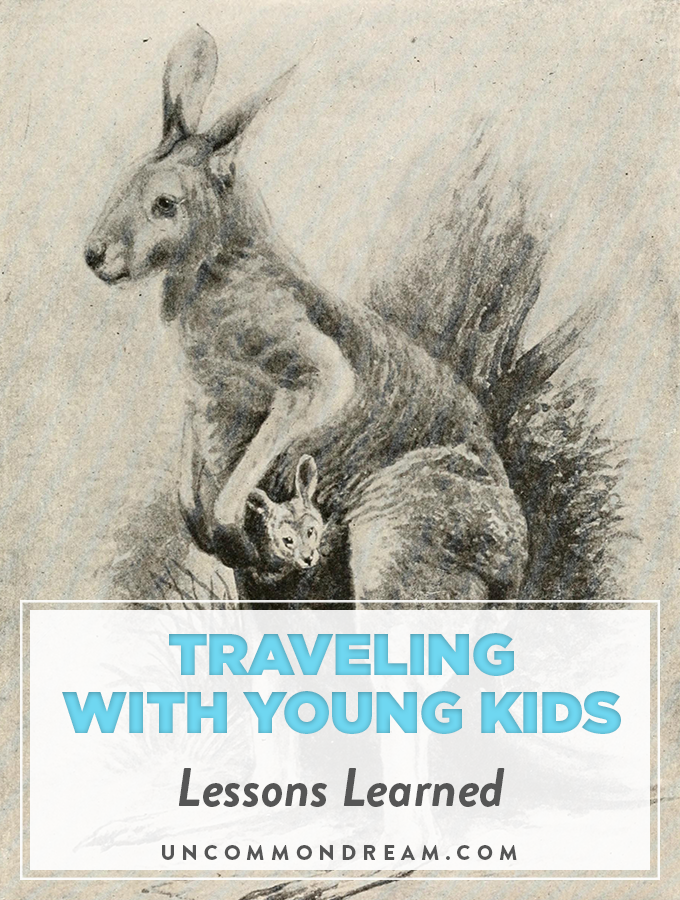 When preparing to leave for Ecuador, I really wanted to minimize the amount of stuff we packed. I wanted our suitcases to close easily and hold enough extra space in case we wanted to bring a few items back with us. After almost three months here, we are getting ready to go home next week and I'm thinking through lessons learned. Our kids were 2.5 years old and 9 months old when we traveled to Ecuador in February. The lists below represent what I've figured out about traveling with young kids.
What Not to Bring
A stroller I'm not a huge stroller fan to begin with, but a stroller would be unusable on just about 90% of the sidewalks we frequent around Cuenca. I think that would be the case in many other countries that don't have laws similar to the ADA regulations that keep U.S. sidewalks relatively wheelchair, and consequently stroller, friendly.

Too many heavy layers. Unless you're going somewhere where it's always cold, one fleece or one sweatshirt is probably plenty. Who cares if they're a little dirty because you wear them multiple times before washing? It has been enough that we each have a rain jacket and one heavier sweatshirt.

Too many shoes. Everyone has one pair. Except me. I have four. Michael has delighted in pointing that out on several occasions. I brought my sneakers (which I wear most days), a pair of Chacos sandals, some knock off TOMS-type canvas flats, and my Crocs. To do it again, I'd probably just bring the sneakers
To do it again, I'd definitely skip the Chacos unless we were going to be spending a lot of time somewhere sandy and/or hot. Even though I love them, they're heavy and take up too much space. Sneakers make the most sense because they're comfortable for everyday walking and can also be used for hikes. Of course, everything about me screams "American" as I walk the Ecuadorian streets, but I think sneakers seal the "I'm a foreigner" deal in many parts of the world. The canvas shoes have been nice to have a few times but definitely not necessary. My Crocs, I just love the ugly things – they're on my feet anytime I'm in the apartment. I'd bring them again. (Note: I'm not particularly fashion-savvy and recognize that not everyone would be happy to spend three months traipsing about in just a pair of old sneakers).
Large Toiletries. I brought soap, shampoo, conditioner, and an extra tube of toothpaste. It was not enough to get us through the 3 months, but enough to take up unnecessary space in our suitcase. We were going to have to buy it here anyway, so it would have been better to just have the small hotel bottles (I keep a small stash) to get us through until our first shopping trip.

Anything more than a week's worth of clothes. There's something about traveling that makes me feel a lot less particular about the cleanliness of our clothes. I've been okay with letting shirts and pants be worn 2- 3 times. Sometimes, though, there's no way the kids' clothes can be worn more than once. Leo, like most toddlers, will happily self-entertain in the dirt. I'll take a safely engaged kid over clean clothes any day.

Extra kid eating paraphernalia like bowls, plates, spoons. Those things are nice when we're home, but we do just fine with what they provided in the apartment we're renting. Even if there hadn't been a plastic bowl or cup, we could have bought a couple for probably just a few dollars. We did bring one sippy cup because it's nice to have a leak-proof option when needed.
What To Bring
Two weeks' worth of socks and underwear. Those are things you just don't (or shouldn't) wear multiple times. If we had more of those, we could do laundry less often. Since we've had to send our clothes to be cleaned at a lavanderia here, that would have saved us some money.

A few children's books. Books are heavy and take up space, so I chose a couple that are filled with many children's nursery rhymes and stories. They provide more bang for the space/weight buck. Books are important to our children's lives, especially their bedtime routine, and I'm glad we have them. A fellow mom told me she gets free book downloads to her tablet from a library in the States. When the kids get older, that'll probably be a great space-saver for us as well.

Puzzles and crayons. These things do a pretty good job of being entertaining more than just once. Leo is happy to draw on just about any paper we find for him. At times I wish we had more toys, but we just didn't have the space for blocks or dump trucks. Not that he ever really notices, though – the kid can figure out something to do with just about anything. Empty plastic bags… so fun!

This portable booster seat It's inflatable so doesn't take much space and allows Marcella to sit at the table. I'm personally not a fan of holding a squirming baby on my lap while she and I both try to eat. Please note: a child can push back from the table in a seat like this. Make sure they are supervised. There are other options out there, but I chose this one because it's pretty compact and affordable.

This rubber bib. It's all you need. I love it.

Sleep space gear. For us, that meant paper blackout curtains. I bring these with us anytime we go somewhere the kids will be sleeping. They make all the difference in their ability to nap during the day and go to bed early. We also brought sound machines and our baby monitors.

Backpack as diaper bag. We just use an old Jansport for diapers, jackets, bibs, sunscreen, etc. It is much more comfortable to carry on long walks than a more traditional over-the-shoulder type diaper bag.

Soft carrier(s) We have two Ergos, the original and the 360. I typically carry Marcella about in the 360 (facing out when she needs to be awake, facing me when she needs to take a nap). Leo is also happy to be carried about in one of the carriers, but he's lighter than most 2.5 year olds.

Car seats Man, they are such a pain to lug through the airport. We watched this video and attached them to our two pieces of carry-on luggage. However, it took about 2 – 4 minutes every time we wanted to detach or attach them (security, boarding, customs, etc.). Ugh. Kids really are so much safer secured in a car seat on the plane. For that reason alone, it's worth bringing them.
But forget trying to install them in a taxi in Latin America. Most don't even have seat belts. We have used them a couple times in a shuttle and a rented car for weekend excursions we took outside of Cuenca. We had the Britax Roundabout but I bought the Safety 1st Grow and Go for Marcella right before our trip and love how compact and light it is.
Our family of 4 came to Ecuador for three months with three suitcases (two carry-on and one checked), a "diaper bag" backpack, and Michael's laptop backpack. The large suitcase was filled entirely with clothes for Michael and me. One carry-on suitcase was filled with kids' clothes. The other had kids' miscellaneous items like the booster seat, books, monitors, and sound machines.
This is the first time we've traveled abroad with our kids and I'm sure there are plenty of things we could have done better! Do you have any tips to share?